Stand Up Paddle Board Rentals
Date:
Daily, April 1 - September 15
Price:
See Rental Rates in Table Below
Daily, April 1 - September 15
Sit. Stand. Float. Paddle. Eagles. Seals. Osprey. Otter. Sea Stars. Anemone. Crab. Kelp. Connect. Future Water.
Dance your way through our protected two main harbours of the Pender Islands and explore the vast marine life and cultural history of the Pender Canal at slack water.  Take that full day adventure around South Pender Island and stop for a camp out at Beaumont Marine Park, part of the Gulf Islands National Park Reserve. 
Our rental program is fit to suit anyone's paddling needs. As a fully equipped overnight outfitter, we also offer all of your overnight camping needs.  Please contact us for your camping gear requests.
We aim to source our product as locally as possible and are proud to exclusively carry British Columbia owned Cascadia Board Co.  Locally sourced boards mean designed for our great Pacific Northwest Ocean waters!
Please see below for our Stand Up Paddleboard rental rates for 2021.  
If you would like to gain some confidence and skills while having fun, we offer 2-4 hour lessons, including a certificate of achievement through Paddle Canada. If you decide to take a course with us, we offer 1/2 price rentals for the remainder of your stay on the Pender Islands!  
A few things you need to know:
SUPers must know how to swim and must have a personal flotation device available at all times.
your rental includes your SUP, paddle, pfd & board leash.
wetsuits and drybag rentals available upon request and availability.
Rental Rates 2023
Stand Up Paddleboarding is the fastest growing watersport in the world! We are excited to facilitate your Southern Gulf Islands Experience!
Meeting Point: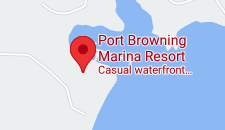 Port Browning
4605 Oak Rd,
Pender Island
1-855-629-6939
Waivers:
Please review the following waivers which need to be signed at checkin.
Tides:
Price:
See Rental Rates in Table Below
Rental Policy
We do not allow you to paddle solo outside of Headquarters eyesight, as a matter of SAFETY.  
If you chose to paddle with a little more adventure in mind, we require you to be very proficient at SUP and be able to read and calculate tides and currents. 
48 hr. notice of cancellation and/or changes. a 50% administrative fee will be retained for any cancellations within 48 hours. Same day cancellations will be charged in full. Cancellations will be waived due to unsafe conditions (strong winds, thunder/lightning and poor visibility only).
If you plan to transport a vessel on the roof of your vehicle you will need to have roof racks, padded cradles, and straps (or rope). We have extra pads and straps for a small rental fee if you need (based on availability).